The Industrial Heritage Committee, Inc.
Abandoned Grain Silo in France Is Now an Opera House
​​

No, we're not talking

plastic surgery here. The latest and greatest opera house in France used to be an old, decrepit grain silo, abandoned and left for demolition. Overlooking the port of Marseille, Arenc Silo was built in 1927, and was highly visible from within Marseille. Fortunately, the city decided it just needed a transformation. The result was a fully renovated, modern and beautiful work of architectural art. It's home to a restaurant with a panoramic view of the city, and the large open space at the center of the silo is perfect for an auditorium.


Waste not, want not, right?

The Web Urbanist calls it "adaptive reuse." We learned through them that Amsterdam-based architect Bjarne Mastenbroek has transformed old farmhouses into futuristic homes, while other architects have turned old fire towers into epic mountain homes with insanely beautiful views. Broken down train cars are even being used as churches!
However, other
creative minds prefer to turn abandoned buildings into light installations. Luisa Alvarez transformed an abandoned house into a "color-filled wonderland" using old color-tinted photographic negatives and gels. Named Habitando, Alvarez created room dividers, window coverings, and even furnishing to fill the old home with colors and silhouettes. The effect caused swatches of color to be thrown onto the walls and interior. Some of the negatives featured silhouettes of people dancing and swaying along the wall.
To this day,

Spanish architect Ricardo Bofill's legendary live/work complex in Barcelona, Spain remains one of, if not the most impressive examples of adaptive reuse we've ever seen. It all started about 35 years ago when the controversial architect discovered an abandoned cement factory comprised of over 30 silos, underground galleries and huge engine rooms. He bought it and began renovation. This included defining the space by demolishing certain structures, cleaning cement, exposing previously concealed forms, and planting various greenery including eucalyptus, palms, olive trees and cypresses.
​

Today, the factory

has been successfully transformed into his personal home, as well as a multitude of offices, modeling and archival laboratories, a projection room, and a huge space known as 'The Cathedral', which serves as a venue for subsequent exhibitions, lectures, and concerts.

The Barcelona Spain cement elevator

renovation from 1975, video, photos & links. You WILL be amazed!

Where is all the innovative thinking in Buffalo?

Compare this story to the Wheeler story on the left. The opportunities for great things are all around us, but here, it is faster & easier to tear something down, than to

THINK and CREATE!
Barcelona Spain Cement Elevator Re-use
Grain Silo Becomes Opera House in Marseille


TRAVEL NEWS — BY CANDICE WALSH ON NOVEMBER 11, 2011 AT 11:33 AM
The National Museum of Industrial
History​
​
captures the stories of America's industrial achievements and the accomplishments of its inventors, managers and workers. Located across from the main entrance of the historic Bethlehem Steel, the National Museum of Industrial History features exhibits in the context of American society, economics, technologies, business and workers. Affiliated with the Smithsonian Institution, the NMIH strives to display America's excellence for the Bethlehem community.
Joseph Dart
​Missing in Action!
One

of the most significant figures in Buffalo history, next to Samuel Wilkeson, has gone missing! Joseph Dart, inventor of the worlds first commercial Grain Elevator has disappeared! On the Commercial Slip Bridge, historical signage about Joseph Dart and the Grain Elevator he invented, was mysteriously replaced with a "REBIRTH & RENEWAL" sign talking about the "fight for rebuilding Commercial Slip" and how it came to be!
​


THAT,

is more important than

Joseph Dart?

Hardly. The R & R story is nothing to brag about, an embarrassment at best in my opinion. There should have been no fight about reconstructing Commercial Slip, the western terminus of the Erie Canal. That site is one of the most historic in this country and definitely in NY State. All it does is express the ignorance of those in power in Buffalo at the time when all this was being planned. Rebuilding Commercial Slip was such a no-brainer that the lawsuits, fights and arguments etc. needed to bring this about, was not a proud moment in our planning history, and at best should be forgotten.
​
Joseph Dartinvented the worlds first Grain Elevator, a system of grain handling that took full advantage of our location on the Erie Canal, making Buffalo the greatest grain handling port in the world for over a century. His system revolutionized bulk grain handling in every port in the world that transferred grain. His idea made possible Buffalo's first great commercial venture, a reason for being, 17 years after the opening of the Erie Canal.
​


But

the real issue is, where is the Joseph Dart Sign?? We have asked the powers that be but have gotten little cooperation. As far as authentic history of Buffalo, one can't get much more noteworthy than Joseph Dart. Leave Dart out, then you may as well take away every other sign on the bridge.
​


If those

responsible really need the rebirth story out there, build your own sign, you have the money. Return Joseph Dart to his rightful place. Where is it? Don't care who took it, just have some respect for Buffalos Heritage and return Joseph Dart to his rightful place soon. Thank You -
​See also:
Grain Elevators as They Were, Part 2
​
​​Help Find Joseph Dart

​​IF ANYONE CAN SHED SOME LIGHT ON THE MISSING JOSEPH DART SIGN,

PLEASE CONTACT ME AT:



​​jerry99@gmail.com
Thank You​​
The Col. Francis G. Ward Pumping Station
​103 Years ​1915 - 2018
​
​​​​​Public Open House June 17th 2018. No reservations needed. Doors open at 1P.M. Presentation begins about 1:30pm. ​Foot of Porter Ave. Buffalo NY.
See the incredible 60 ft.
​Holly Steam Engines
THE INDUSTRIAL HERITAGE
​TRAIL ON THE OUTER
​HARBOR HAS BEEN
​COMPLETED!
​
SEE PHOTOS​
Historic Buffalo
River Tour
THE SILO - LUXURY HOTEL, CAPETOWN SOUTH AFRICA
The Silo will have 28 rooms, including a spectacular penthouse. Each room will be individually designed and decorated by the stylish wand of Liz Biden. Colourful and eclectic pieces will juxtapose the modern, industrial architecture.
​The Silo will be in stylish company, positioned above the space that will become the Zeitz Museum of Contemporary Art Africa (MOCAA). The modern museum will make use of the 42 grain silos and the lower portion of the grain elevator, and The Silo will coexist with the Zeitz MOCAA to offer guests a culturally enriching stay in the heart of the Waterfront. It is set to open in late 2016.
Wednesday July 4th ​- Sunday July 22nd

Saturday August 4th

-

Sunday August 19th Labor Day Sept. 3rd
Boarding at Miss Buffalo Dock,
​Erie Basin Marina
(

NOT

Canalside )
​All tours depart at 12:30 p.m.
​and return at 2:30
Adults - $20.00
Children Ages 4-11 - $13​.00
Ages 3 & Under Require Reservations but are Free​​
​
​
For Tickets Book Conveniently Online!
Go to
Buffalo Harbor Cruises.com
or Call
716 856-6696
​
​For More Information
​
The Historic Buffalo River Tour
in Our 33rd Year​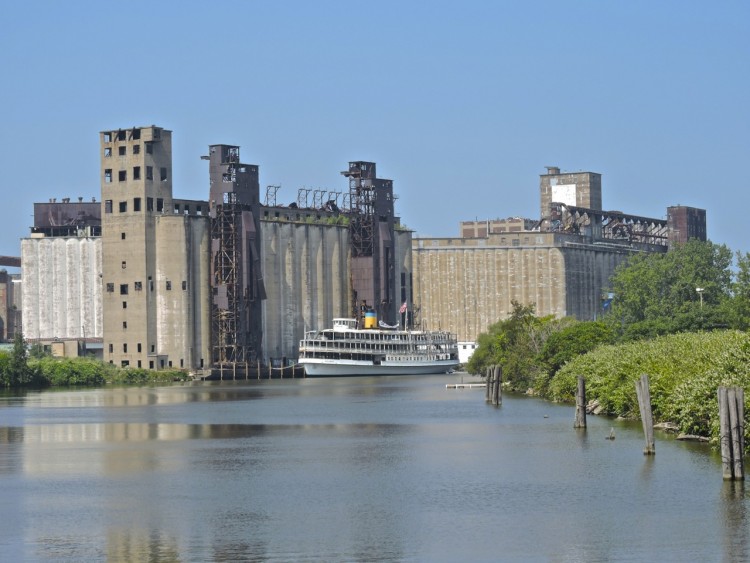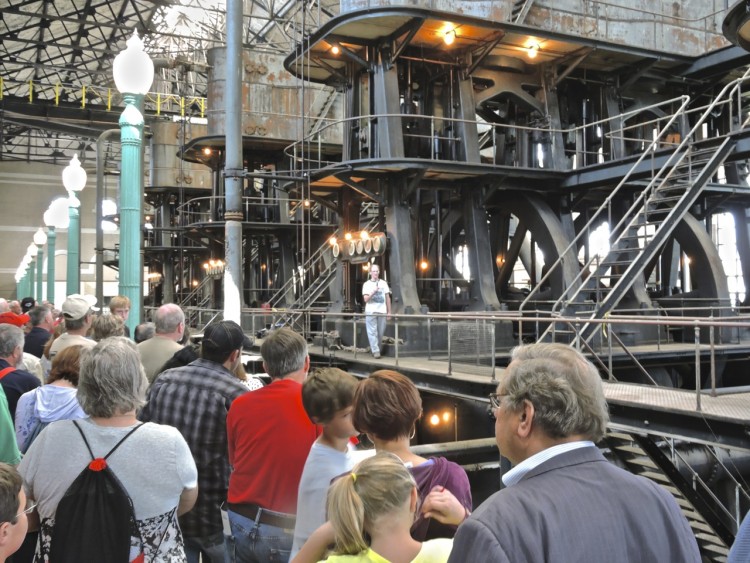 The Historic Buffalo River Tour
is now in it's 33rd. season. So much has changed on our waterfront since the day the Industrial Heritage Committee had the then "crazy" notion to shuttle people up and down the Buffalo River on small private boats in 1985 to see the Grain Elevators. Maybe we WERE a little crazy then but our faith in the idea was realized when demand quickly outgrew our meager means of carrying passengers. We took a leap of faith and turned to the "Miss Buffalo" to handle our problem. As demand warranted we sometimes had to run two of their boats on the same trip and probably could have run three but for lack of manpower. We were on to something and very excited! No one before us had done this, taking this mysterious, forgotten part of the city and making it a tourist attraction.
​
Back then

ships were a common sight at the elevators, oil barges going up to the Mobil refinery, the sand boat, coal barges to the Huntley Station, cement boats to the Huron Cement elevator etc. Some of that is still there but on a far lesser scale. Ohio Street was still a street with remnants of its' industrial heritage still holding on. The Harbor Inn, the centerpiece of Ohio Street, was a thriving "Visitor Center" to travelers from around the world along with truck drivers, sailors, steel, flour mill and RR workers, grain scoopers, downtown office workers, politicians and more, a regular melting pot of occupations. It was doing what it had done for the previous 116 years and doing it well, but new things were in the mix.
​
What was

new to the Harbor Inn was it becoming the home and meeting place for the many preservation organizations, then in their infancy, beginning to set the stage for the many battles they were anticipating in the future as Buffalo began it's transition from industrial center to who knows what? No one really knew then. But the "planning" meetings and battles were on for the next three decades. ​​
​
The Industrial

Heritage Committee, Inc. believed then, as now, the Grain Elevators are the most historically significant architecture in Buffalo with a world wide recognition and importance, suitable for a UNESCO World Heritage Site and documentation by the National Park Service. The latter was accomplished in the early 1990s. So the Historic Buffalo River Tour continued as our platform to get the word out to the people, politicians and planners to include them in waterfront plans.
​
​Even though

the tours continuously sold out year after year with people from every corner of the planet (and maybe beyond) it seemed to be falling on deaf ears of the local "powers that be." We had the world coming to Buffalo to see the elevators, but City Hall could not see them from just down the street. As other cities around this country and the world embraced their grain elevators and industrial heritage by making tourist attractions out of them and more, City Hall was intent on demolition and indifference. That's so Buffalo, stepping on it's own face.....​ Continued in the
Buffalo History Gazette
The Industrial Heritage Committee, Inc.

​For Details click:
Col. Ward​
​

​